Rocks and Minerals
updated August 11, 2015

Recorded here is my own personal collection of articles, resources, favorite links, teaching ideas, and lesson plans. It encompasses many years, from the very beginning of my experience studying and learning about Waldorf to the present time. People from all around the world visit my site and recommend it to others. Welcome!
This site records my journey. I hope my honesty is encouraging and helps break down some barriers that may prevent people from trying Waldorf ideas. Because this is an ongoing site documenting my curriculum experiences and ideas, some materials are more Waldorf-y than others. Please feel free to take what you like and leave the rest.
---
Rocks and Minerals lesson plans
for Class 6 (pdf)
---
Below is the booklist for this unit. Please realize that there is a difference between books I would recommend as must-haves -- and which are worth tracking down -- and books that I used simply because I already owned them. I've put an asterisk by the books I most strongly recommend.
Booklist: Teacher Preparation
* From Nature Stories to Natural Science: A Holistic Approach to Science for Families
by Donna Simmons
Path of Discovery - Grade 4: A Program of a Waldorf Grade School Teacher
by Eric Fairman
* Science as Phenomena for Homeschoolers K-8
by Barbara Dewey
* Teaching Geography
by Roy Wilkinson

Mudworks: Creative Clay, Dough, and Modeling Experiences

by MaryAnn Kohl

* The Hand-Sculpted House: A Practical and Philosophical Guide to Building a Cob Cottage

by Ianto Evans, et al

Earth, Water, Fire, and Air: Playful Explorations in the Four Elements

by Walter Kraul

* The Forgotten Arts and Crafts: Skills from Bygone Days

by John Seymour

* Rock and Gem

by Ronald Bonewitz

* Educating the Will

by Michael Howard
Rocks and Minerals (FlashCharts)
Additional Resources: Just for Fun

Hope Diamond: The Legendary History of a Cursed Gem

by Richard Kurin

The Great Clay Adventure: Creative Handbuilding Projects For Young Artists

by Ellen Kong

The Canterbury Tales

by Geoffrey Chaucer

The Adventures of Tom Sawyer

by Mark Twain

* Whittle Your Ears

by Barbara Dawson Betteridge
(recommended if you need a Class Play; includes "The Castle of the Kingdom of the Stones")
Additional Resources: Picture Books and Poetry
Week One

Snowy Flowy Blowy: A Twelve Months Rhyme

by Nancy Tafuri

Thank You, Santa

by Margaret Wild

Chester the Worldly Pig

by Bill Peet

Basho and the River Stones

by Tim Myers

Everybody Needs a Rock

by Byrd Baylor

On My Beach There Are Many Pebbles

by Leo Lionni

If You Find a Rock

by Peggy Christian

Week Two
Rocks & Minerals (The Question & Answer Book)

by Elizabeth Marcus
The Burning Mountain

by Anico Surany
Volcanoes and Earthquakes

by Robert Irving

* How to Dig a Hole to the Other Side of the World

by Faith McNulty

* The Pebble in My Pocket: A History of Our Earth

by Meredith Hooper

A Journey Through Time in Verse and Rhyme

edited by Heather Thomas

Week Three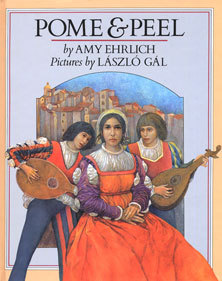 Pome and Peel

by Amy Ehrlich
A Child's History of the World

by V.M. Hillyer
* The Story of a Nail

by Irving & Ruth Adler

Week Four
* Buried Sunlight: The Story of Coal

by Raymond Janssen

The Agony and the Ecstasy: A Biographical Novel of Michelangelo

by Irving Stone
Be sure that you have posters of natural features such as the Grand Canyon, sand dunes, waterfalls, and so on with which to decorate the classroom walls.